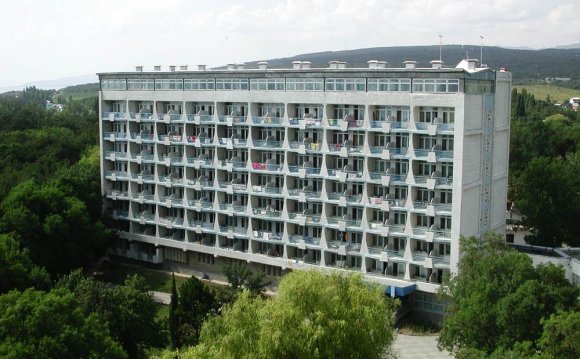 Bette's Rest House
Betta Gelenjik Recreation House, Russia-South: description of the hotel and its numbers with photographs and a list of services rendered, located on the map of Gelendžik.
General description of Bett's home
It's located in the Betta settlement, the Helenjik resort, on the Black Sea coast. The rest house is designed for 400 places. Territory
home
The 2nd, 3rd, 5th floor hulls, cottages and summer cabinets with one-, two-room numbers with all the conveniences.
In the numbers.
In rooms with all the conveniences. All the license plates. 3rd floor hull with conveniences on a block of two rooms (toilet, shower, washing), refrigerator in each room. All the license plates. Separate cabinets from the 2nd rooms with convenience on the block (twaet, shower, washing, cold water). Summer cabins with convenience on the ground.
Infrastructure
There are numerous cafeterias, bars, beach complex, equipped with all the rest. There are boats, water bikes, catamarans for active recreation. There are winter and summer films, a library with a fund of 15,000 books
Sport and leisure
Sports, winter dance hall, as well as summer spaces with special cover for big tennis, volleyball, gym, ty, billiard, bar, cafeteria, children's café, Finnish sauna and Russian bath. Field trips are organized. For children, there's a corner of mini-tracks where we can roll on carousels. The Betta board has a garden where parents can leave the child under the care of the caretaker; the village has a cartoon, a rental, a hairdresser, food and prosthetic stores, a small market.
Hotel calls
All feedback
Dishesive and non-sertiful)
Back from rest last week (July 2015). Suffocated on a concessional trip. For two, 12 yr. The calls were read, and they were set to the worst, but the expectations were not met! The area is large, similar, but few flowers are estimated at 4+. Number, evaluation...
We've rested four people with children aged 15 and 5 from 30 August to 12 September 2013 on a concessional trip. Five days barely survived the summer house because of the bad and cold weather and were forced to move to the lux, with the corresponding extra, 3rd hull, so...
We can only breathe on a concessional trip.
We've been resting with our husband and child for two, five years in August 2013, on a preferential trip for 14 days. In general, I can appreciate the 3 plus. I'll explain the details of what my subjective evaluation was: 1. We had a one-room suite for two. ♪ ♪
Betta was in September 2005. The people who knew said they had to choose for the rest of June or September. It didn't work in June, we went in September. Little town, but nice. Helenjik's about half an hour away, maybe 40 minutes. The sea is almost everywhere. ♪ ♪
Betta, Kiparis. Natalia Licholetov
Finally, I'm gonna write my feedback. Sea leave. How long have we been on our coast? Summer 7, I guess... It took a long time to pick a place and a hotel. The choice was huge. Sochi, Adl... ♪
Share this Post